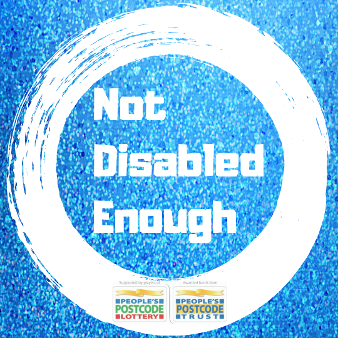 Through our workshops and performances, we've had participants and artists share their experiences of disability; the
discrimination and stigma they've faced in every day life, work, relationships and within the welfare system.
Experiences, when shared can provide validation for others and awareness raising for those without disabilities.
'Not Disabled Enough' is a podcast that looks at the everydayness of disability, and the ever fluctuating spectrum of wearing your disability as a neon sign to doing everything possible to not draw attention to it. Over the next year, this podcast will curate a selection of stories from physical disabilities to mental health problems, parenting a child with a autism, to finding a new life after disability enters your life.
This podcast has been made possible by an award from the Peoples Postcode Trust, a grant-giving charity funded entirely by the players of People's Postcode Lottery.